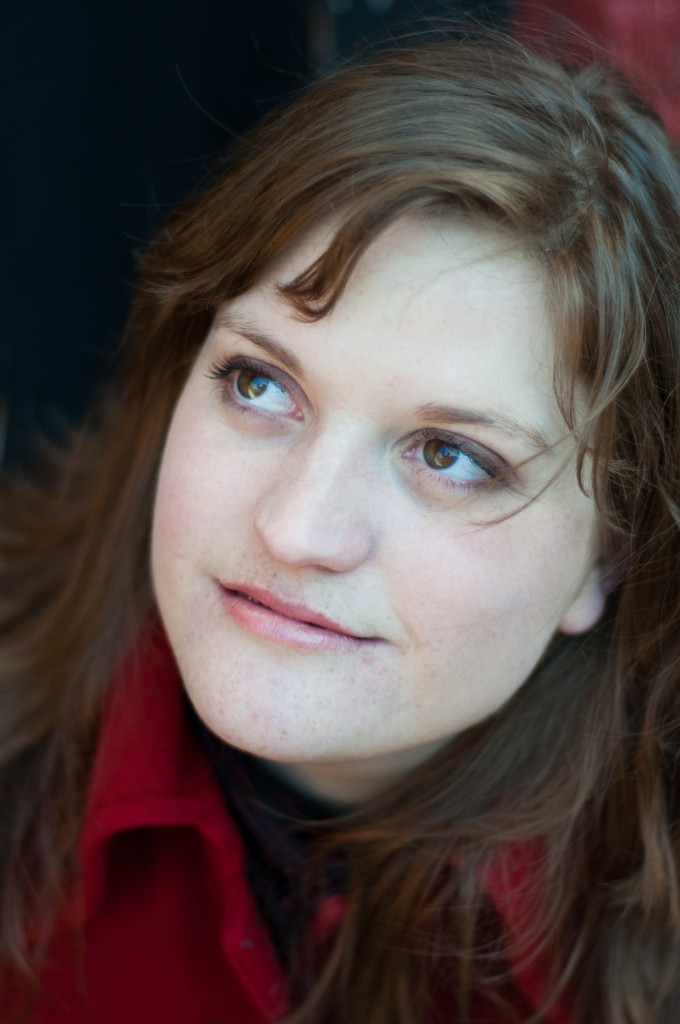 Meagan Spooner
Meagan Spooner grew up reading and writing every spare moment of the day, while dreaming about life as an archaeologist, a marine biologist, an astronaut. She graduated from Hamilton College in New York with a degree in playwriting, and has spent several years since then living in Australia. She's traveled with her family all over the world to places like Egypt, South Africa, the Arctic, Greece, Antarctica, and the Galapagos, and there's a bit of every trip in every story she writes. She currently lives and writes in Northern Virginia, but the siren call of travel is hard to resist, and there's no telling how long she'll stay there.
In her spare time she plays guitar, plays video games, plays with her cat, and reads.
Skylark (Skylark #1) is one of my 2012 reads that I really enjoyed, as it is unique and deals in a world that is very separate yet somehow parallels to our own world. It involves a lot of adventure and perhaps futuristic ideas that drew me in. I will be posting my review of Skylark in the next two days (almost finished writing it! :D). But today I'm very excited to invite Meagan Spooner, the author of Skylark to my blog! Meagan has also kindly donated an amazing Skylark Swag pack as a giveaway (INT) at my blog! It's something I would love to win and scroll below to see a photo of some of the swags you can win. Hi Meagan! It's awesome to have you here and thanks for doing an interview with me :)
Meg: Hi Angela! I'm so glad that you enjoyed Skylark -- it really means the world to me to hear from people who've read and liked the book. I'm thrilled to answer some questions for you on your blog!
Alrighty, on with the interview!
1. How did you come up with the idea to write Skylark?
The world of SKYLARK came about first, while I was thinking about the energy crisis we're going through in our own world. I started thinking about alternative forms of energy, and magic popped into my head--that was where the idea came from for machines that run on magic. The rest fell into place as I went along.
2. Does Lark or any of the characters in Skylark resemble/reflect you in anyway? If so, how?
I think to a certain extent all characters are a reflection of the author. Things we love, things we want to be, things that frighten us. I get asked a lot of Lark is like me, but I don't really think she is. She's a lot tougher and braver than I am, especially as she learns and grows throughout the story. Lark makes incredibly tough decisions, things I'm not sure I could deal with!
3. What is your favourite time of the day to write and why?
I don't really have a favorite time to write. I'm a full-time writer, so I can write at any time, and often the writing happens whenever I can cram it in between email, blogging, and other book-related promo stuff. If I absolutely had to pick a time, I think I'd say first thing in the morning. I wake up very early, so when I've had a good writing day I'll have 3-4k words written by 9 AM, and there's nothing like that feeling of accomplishment.
4. If there's one place in the world you could choose to live in, where would it be and why?
That's impossible to decide! I have way too many places I'd love to live, even just here in the US--not even overseas. When you include the entire world, it's just absolutely impossible. But places I wouldn't mind living someday include Melbourne (Australia, not Florida), Ireland, Seattle, and San Francisco.
5. What is your all-time favourite movie and why?
Again, an impossible choice! My favorite movies change places all the time. I will say that one of my consistent all-time favorites is Contact. It's a science fiction movie starring Jodie Foster, based on the book by Carl Sagan. I'm fascinated by the intersection of science and faith, facts and beliefs. (Clearly, or else I wouldn't have written a book about machines running on magic

!)
6. What is your favourite snack in between working hard on your books?
I eat a lot of apples, which I like cold straight from the fridge. If I'm being bad, though, salt and vinegar potato chips are like my crack. I could eat them until my mouth just shriveled up from all the vinegar!
7. What do you think is important for a Young Adult book?
Choice. I think one of the defining charactistics of being a teenager is that you're making decisions for the first time, big decisions that could possibly impact the rest of your life in a very real way. I think that good YA books reflect that, placing a bigger than usual emphasis on the choices of the protagonist and how they drive the plot forward. A YA book should never be about the hero or heroine being bounced around by fate from one thing to the next--what happens should come straight from the choices the hero/ine makes.
8. If you could live in any ONE story, which one would it be?
THE GOLDEN COMPASS by Phillip Pullman. I want a daemon. I want one BAD.
9. What is the most interesting thing you've learnt from writing this series?
For the love of God, give your characters someone to talk to! I had no idea when I started writing SKYLARK how rough it is when your protagonist is alone for significant portions of the book. It worked out for the best, though, because I realized the problem while I was writing--and it led to the creation of one of my favorite characters of mine to date: Nix, the pixie that accompanies Lark throughout her journey. Needless to say, though, books two and three have a lot more characters around than book one does.
Now, on with the giveaway! Thanks to Meagan for the awesome swag pack. Here are some of the swags you can win (a pack including signed bookmarks, signed book plates, signed postcard, buttons, stickers etc.):
To enter the giveaway, simply enter the Rafflecopter. This is an INTERNATIONAL giveaway (YAY!).

The winner must reply within 48 hours after I've contacted him/her, otherwise a new winner will be selected. I do retain the right to disqualify any entries that are unfit. Anyway, other than that, GOOD LUCK!
a Rafflecopter giveaway